We offer several opportunities for worship during the week to suit your schedule. Please check the weekly announcements here or contact the office to confirm schedule for the week.
---
Wednesdays at 11:15 a.m.
Said Holy Communion in the Chapel (excluding summer)
---
Tuesdays to Fridays
Said Morning Prayer in the Chancel – 8:30 a.m.
Said Evening Prayer in the Chancel – 4:30 p.m.
---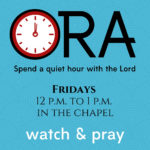 Fridays at noon
ORA means "pray"! Join our Assistant Curate Rev'd Alexandra Fridays for a new service of quiet prayer and devotion from 12-1 p.m. in the chapel. The service opens and closes with prayer; the time in between is yours to spend with Christ. Come out for the whole hour, or even just for part of it, and take your rest in Him.