During the COVID-19 pandemic, we are putting as many as our services online as possible. Our Sunday morning video service is emailed to our parishioners, posted on our YouTube Channel, our FaceBook page and our website.
---
---
If the Ordination of Jim Leatch is not visible above, click here.
---
Daily Offices and Holy Communion
Morning Prayer, Tuesdays to Fridays, 8:30 a.m.
Evening Prayer, Tuesdays to Fridays, 4:30 p.m.
Holy Communion, Wednesdays, 11 a.m.
Join Rev'd Rob and Rev'd Alexandra live on this page (above) or on our Facebook page, or watch later. Follow us on Facebook to get alerts for when we are going live. The services follow the Book of Common Prayer. Page numbers are announced and included in the FB post. These services also include our Parish Cycle of Prayer.
---
Zoom Compline
Tuesdays at 8 p.m.
Compline is the ancient office that marks the end of the day. This short and beautiful service can be found on page 722 of the BCP. Join Rev'd Alexandra live on Zoom for a quiet and prayerful end to your day. You can participate either with a computer or over the phone. Please email Alexandra for instructions to connect to the service.
---
Post-COVID-19
We offer several opportunities for worship during the week to suit your schedule. Please check the weekly announcements here or contact the office to confirm schedule for the week.
---
Wednesdays at 11:15 a.m.
Said Holy Communion in the Chapel (excluding summer) will resume when allowed by the Diocese.
---
Tuesdays to Fridays (on FB Live)
Said Morning Prayer in the Chancel – 8:30 a.m.
Said Evening Prayer in the Chancel – 4:30 p.m.
---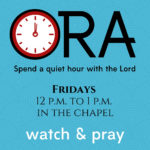 Fridays at noon (will resume when allowed by the Diocese)
ORA means "pray"! Join our Assistant Curate Rev'd Alexandra Fridays for a new service of quiet prayer and devotion from 12-1 p.m. in the chapel. The service opens and closes with prayer; the time in between is yours to spend with Christ. Come out for the whole hour, or even just for part of it, and take your rest in Him.