Since 1988, St. Olave's has donated more than $300,000 to Christian Mission Work in our community and around the world through our Second Century Mission Fund. Established in 1987 following St. Olave's Centennial, the fund currently provides about $9,000 in annual interest to missions and charities of our choice. In December 2019 we supported a Christmas community meal initiative.
Recent support
In 2022 fund disbursements were as follows:
$2,400 – Children Believe, supporting five children in Burkina Faso (see below)
$8,990 – PWRDF for Ukraine Relief (see below)
$5,000 – Versey Wigmore Memorial Scholarship at Wycliffe College, University of Toronto
In 2021, fund disbursements were as follows:
$1,000 – confirmation bibles for young people in Tanzania, to honour Bishop Jenny Andison
$5,000 – Versey Wigmore Memorial Scholarship at Wycliffe College, University of Toronto
$2,400 – Children Believe, supporting five children in Burkina Faso

$5,000 – Scott Mission in Toronto

$5,000 – All Saints' Sherbourne Community Centre
---
---
Children Believe (formerly Christian Children's Fund of Canada)
Report Card on sponsored children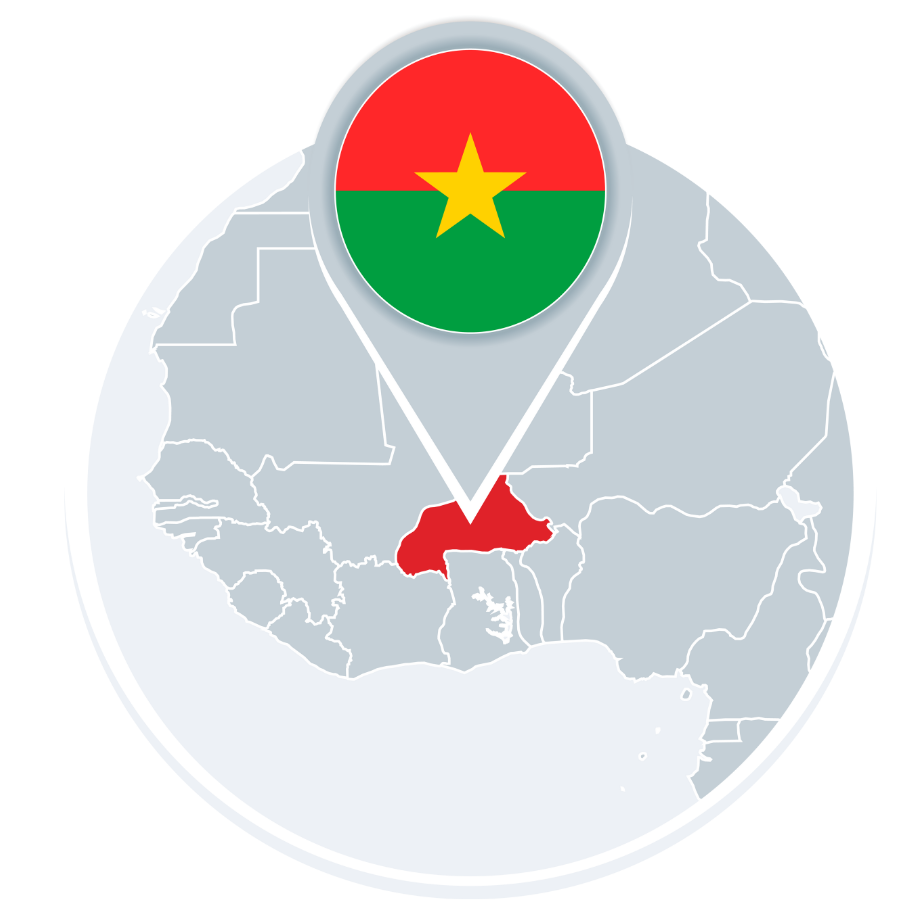 For many years, a small portion of donations to the Second Century Fund at St. Olave's Anglican Church has gone to support school age children in Burkina Faso, a small, landlocked, war-torn country in Western Africa.
Despite having large deposits of gold, limestone and marble in abundance (the country's main exports are gems and other precious metals) a large part of the economic activity of Burkina Faso is funded by international aid.
Burkina Faso has been severely affected by the rise of Islamist terrorism. Several militias, partly allied with the Islamic State (or al-Qaeda), operate in Burkina Faso. Governments worldwide warn their citizens not to travel to Burkina Faso due to crime and terrorism. As recently as early 2022 there was another of many coup d'etats. For decades the people of Burkina Faso have been plagued by corruption, unlawfulness, insecurity, drought and famine.
Formerly a French colony which gained its independence in 1980, Burkina Faso is one of the least developed countries in the world. Approximately two thirds of its population of 22 million practises Islam, while one third practises Christianity. The official language is French.
There is Irregular rainfall, poor soil in the tropical climate, as well as a lack of adequate communications and other infrastructure to support its population. While there is low ecological awareness, the people mainly farm to produce their own crops.
Without aid, the children of Burkina Faso suffer with an inadequate supply of food and water, improper hygiene and clothing, poor public health and little or no education, especially for girls.
Alexine is 16 and has been supported by our funding for several years. She has recently received a hygiene kit to help keep her healthy, has a new school uniform and school supplies and can go to a childcare centre. She loves the colour blue, likes sheep, loves to read and enjoys classroom duties at school.
Bouldjoa, who recently turned 18, has been one of our sponsored children since he was a young boy. His family moved recently so this sponsored child will be replaced. We are waiting to hear who that will be. Bouldjoa did very well in school and graduated. His favourite subjects were history and natural science. He had a bike so he was able to ride to school when he could get away from work on the family farm.
Boureima, 13, like many boys in Canada loves the lunch program at school, but says he is good at Math too. He likes to play games with his friends and recently learned more about caring for his personal hygiene. He got sick recently and our funding meant he could see a doctor and receive the medicine he needed.
Jules is 9. He has become better at counting numbers and loves listening to stories at school. Recently he received emergency supplies at home for him and his family. He loves the colour green, playing with dogs, and he likes to care for the animals at home. Through our support, he has a new school uniform and is learning to care for himself so he will stay healthy and be able to work and go to school.
Noufou who is 15 has many chores to do at home. One of the most important is to fetch water for washing and cooking. Children Believe supporters cared about his welfare so funding was provided so Noufou could see a doctor too when he got sick. Now he has the supplies he needs to do his schoolwork and has become good at science. He loves playing with friends when he is not working at school or home, and he enjoys his long walk to and from school.
Your donations to The Second Century Fund of St. Olave's are crucial to the ongoing support of this and other outreach initiatives locally and around the world.
---
Ukraine relief
The Second Century Mission Fund launched an appeal to support Ukraine relief with a donation of $2,500 to the Primate's World Relief and Development Fund (an agency of the Anglican Church of Canada). In addition, from March 27 until May 8, 2022, all parishioner donations to the Second Century Mission Fund were matched up to $2,500.
As of May 8, the final tally of parishioner gifts was $3,990. The total donation to PWRDF was $8,990. Thank you to everyone who supported this important humanitarian relief effort.
PWRDF is able to get money to Ukrainians in need through its vast network of partners working in the country. It has contributed to an appeal from ACT Alliance (an international coalition of faith-based aid organizations) which will support Hungarian Interchurch Aid as it provides safety, food and shelter to Ukrainians fleeing to Hungary. PWRDF is also supporting Ukrainian seniors seeking safety in Moldova, through its partnership with HelpAge Canada, which has established channels in Moldova. It is also supporting Initiative E+, an organization that supplies medicine and supplies to health care providers in an around Kyiv to tend to civilians injured in the war.
On May 1, 2022, St. Olave's welcomed Patrica Maruschak, PWRDF's Director of Partnerships and Programs, to share the latest updates.
---
How to Give to the Second Century Mission Fund
To give to the Fund, check the Second Century Mission Fund box on your duplex envelope or write Second Century in the memo field on your cheque. You may also donate online and choose Second Century Mission Fund from the dropdown menu. If you would like a portion of your PAG offerings to be designated to Second Century Mission Fund, please notify in writing St. Olave's treasurer, Annis Tebbutt.