Christmas Craft Show returns!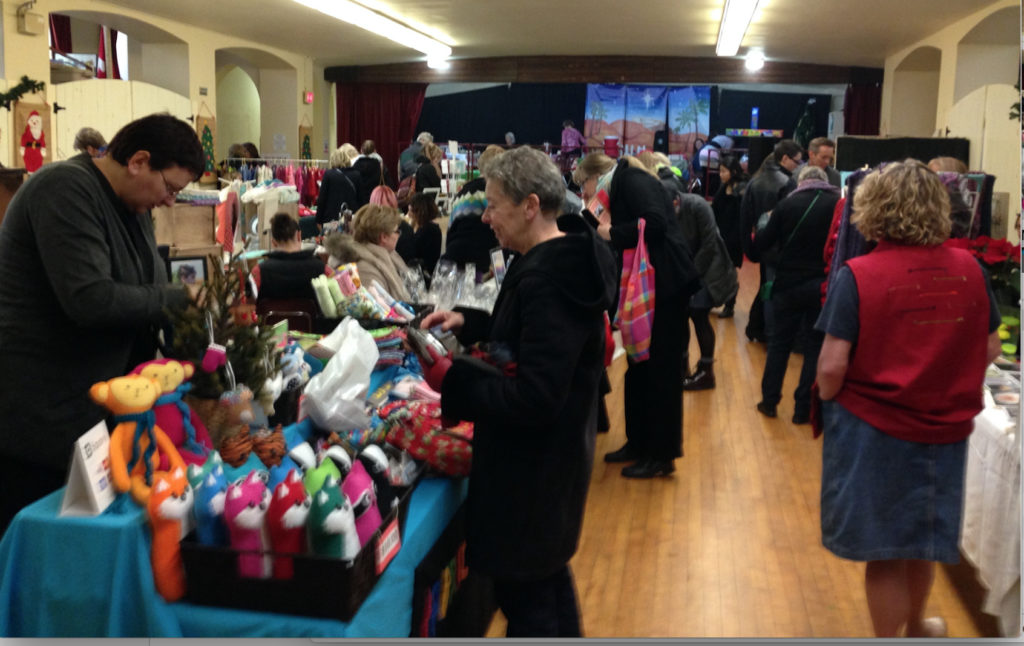 Saturday, November 19, 2022
10 a.m. to 4 p.m.
St. Olave's is pleased to present its annual Christmas Craft Show, back after a two-year hiatus. Get a jump on your Christmas shopping with unique gift items from 20-25 local artists and artisans. New this year, we will also be presenting a Food Emporium with optional online ordering in advance. Come stroll the aisles then pick up a delicious snack or meal to go. Applicaitons are now being received for Craft Vendors and Food Emporium Vendors. Click on the buttons below to find out more information.
---
Saturday, June 18, 10 a.m. to 2 p.m.
on the church lawn and in the Parish Hall
St. Olave's Anglican Church Women (ACW) invite you to peruse their vast collection of gently used books and stock up for your summer reading. They will also be presenting an exhibit and sale of watercolours by the late Sally Jarvis Sloan.
---
Seniors Takeout Lunch
Wednesday June 8, 12:30 p.m.
St. Olave's is proud to partner with Parkdale Golden Age Foundation to offer freshly-made take-out lunches to seniors for $6. Parishioners and area seniors are all welcome to order meals (order more than one to add to your freezer!). The deadline to order is June 6. Pay at pickup (cash only) at the Ostend door closest to Windermere.
June 8 menu:
Vegetable Soup
Meat loaf with creamy mashed potatoes and green bean medley
Strawberry shortcake
To order your meal before June 6, contact Parkdale Golden Age Foundation at 416-536-5534.
Volunteers welcome: if you would like to help with meal distribution or kitchen clean-up, please contact Janice Douglas or Sheila Tait.
---
Discovering Your Strengths and Learning Strengths from Nature
Friday, June 3, 2022
1-4 p.m. at St. Olave's (Ethel Brown Room)
Now, more than ever, we need to know our strengths in these troubled times, for ourselves, our world, and our climate. Families, schools, clubs and individuals are invited to join Life Coach Roberta Harris in learning about our essential strengths through play and fun. This interactive program is designed to empower young people by helping them identify their inner and outer strengths. Inner strengths are natural virtues such as courage, kindness and generosity. Outer strengths are natural talents, like music, art, cooking and sports. Through discussion, games, art, music, nature awareness, dance and inspiring videos, Roberta will convey these messages in a fun, experiential and interactive way.
Fee: $20-$35 per person (sliding scale pricing, choose your price when registering)
Learn more about Roberta at robertaharrislifecoaching.ca/.
---
Evensong for the First Sunday of Advent followed by The Mystic Voice of a Violin
Sunday, November 28, 2021, 4 p.m.
Join us in person or online for our annual Advent Evensong at 4 p.m., followed by The Mystic Voice of a Violin, a concert featuring Paulina Derbez. She's performed in Austria, Switzerland, Mexico, New York, Ottawa and here in Greater Toronto, including on two of St. Olave's past Arts Guild videos.
This special concert features Bach's Fugue in G Minor and part of his Chaconne in D Minor, as well as Corelli's La Folia, all in contrast with various baroque and modern pieces from Mexico. Derbez will also include three of her own compositions: Il vento, Signor Pietà and Reflections of the Heart.
The service and concert will also be streamed on our YouTube channel to watch live or later.
Screening, sign-in, face masks and physical distancing are required. Those attending the concert only must provide proof of vaccination.
---
World Day of Prayer 2020
Saturday, March 7, 2020, 10 a.m.
World Day of Prayer is an international, inter-church event that began 98 years ago bridging social, geographic and political barriers in over 170 countries. The weekend of prayer begins in Samoa and prayer in native languages travels through Asia, Africa, the Middle East, Europe, Australia and the Americas. Together we pursue justice, peace and reconciliation by standing together in prayer and action.
This year St. Olave's is proud to host a World Day of Prayer, representing West Toronto churches. Women, men and children of all ages are invited as we celebrate the theme: Rise! Take Your Mat and Walk. The service has been prepared by women in Zimbabwe. We are encouraged to reflect on the challenges this republic has faced during its steps to independence over the last 60 years. The writing team has shared the injustice obstacles that the women of Zimbabwe have met, and the hopes they have for the future. These experiences unite us all in prayer and solidarity.
An international committee is based in New York and there are national committees and organizations in each participating country. In Canada, the World Day of Prayer (WDP) is coordinated by the Women's Inter-Church Council of Canada (WICC), one of the original founders of this prayer movement.
Offerings received through the World Day of Prayer transform our prayers into action in the form of project grants empowering women and children in Canada and throughout the world. All regions share in the grants, with consideration given to greatest need. Through WDP offerings, WICC has distributed more than $2.5 million in the past 35 years. The vision is to restore hope to women and children touched by injustice.
---
---
Christmas Community Meal
Saturday, December 7, 2019, noon
Be a table host as we welcome our brothers and sisters who may not otherwise get a Christmas meal. Volunteers are asked to arrive at noon, the meal is served at 1 p.m.
Read more here. See images from our event courtesy of Snapd Bloor West here.
---
The Healey Willan Singers – Follow the Star
Saturday, December 7, 2019, 8 p.m.
Come and let the Healey Willan Singers bring you to the festive season with an evening of seasonal music that lights up our lives. And bring your cheerful voice and join the choir in singing some of your favourite Christmas Carols.
Tickets are $20 adults, $15 students/seniors. To reserve please email healeywillansingers@yahoo.ca.
---
Ton Beau String Quartet – Letter From The Afterlife
Saturday November 23, 2019, 8 p.m.
Wijeratne: Two Antique Poems on Pop Songs
Mendelssohn: String Quartet No, 6 Op. 80 in F minor
Nordic Folk Tunes, Arranged by the Danish String Quartet
Tickets are $30 general, $20 youth/students/arts workers, available at the door or online. For more information visit Ton Beau String Quartet online.
---
Christmas Craft Show & Coffee House
Saturday, November 16, 2019, 10 a.m. to 4 p.m.
More than 20 unique artisans will be joining us this year. Knitters, carvers, bakers, jewelry makers, soap makers, needleworkers, builders, painters – makers of all kinds – will fill our Parish Hall will charming and creative gift items for everyone on your list. Our Anglican Church Women will host a used book sale and sell other baking and crafts. A bistro lunch will also be served from 11:30 to 2 p.m. With thanks to Second Cup on Bloor for donating delicious coffee. $2 door admissions will go to LOFT Community Houses.
For information for vendors here.
Download the poster to print and share!
---
Chair Yoga
For people of all ages with various levels of physical limitations. Chair Yoga is an excellent form of exercise to keep the spine limber, strengthen core muscles and is a fun way to release stress.
Where: Lower level of the church, Ethel Brown Room (bottom of stairs nearest parking lot entry). Chair lift available.
When: Mondays, 10-11 a.m., starting January 21, 2019. (Please arrive early if you require the chair lift.)
Cost: $10 Per Class, $30 one month trial, $90 12-week package
Call to reserve a chair: 416-357-3934 (Walk-ins welcome)
Learn more about instructor Darlene Hewitt