Christmas Craft Show and Bistro
Saturday, November 18, 2023
10 a.m. to 3 p.m.
You're invited to St. Olave's annual Christmas Craft Show and Bistro! Get a jump on your Christmas shopping with unique gift items from 20-25 artists and artisans. Pick up some delicious holiday baking and enjoy a warm bowl of chili with friends. $2 entry fee will support local Indigenous initiatives (kids 12 and under are free). A few tables are still available. For more information or a vendor application form please contact Annis Tebbutt.
---
Community Open House
Saturday, April 15, 1-4 p.m.
All are invited to learn more about our partners and programs. Representatives from Hunger Patrol, Power4Teens, Parkdale Golden Age Foundation and 101st Scouts will join St. Olave's groups and ministries to share information about our work in the church and community. Browse our book table, sip a coffee or tea and buy a baked good to support the local food bank (Loaves and Fishes). There will be activities for children, tours of the church, a hymn sing and you can even ring the church bell. Free St. Olave's tote bag to the first 50 visitors!
---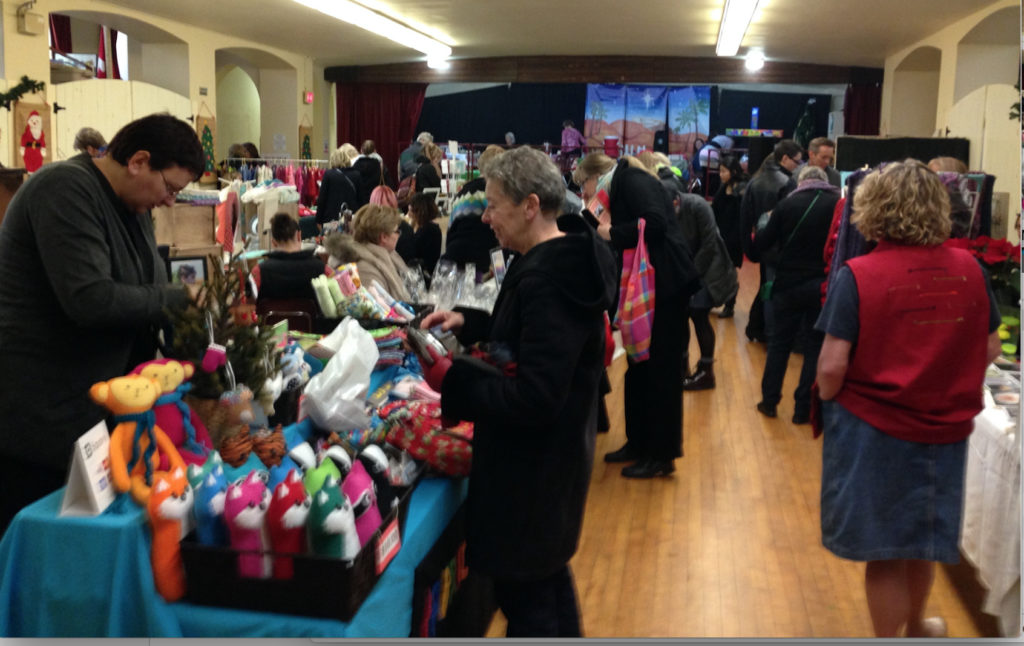 Christmas Craft Show returns!
Saturday, November 19, 2022
10 a.m. to 4 p.m.
St. Olave's is pleased to present its annual Christmas Craft Show, back after a two-year hiatus. Get a jump on your Christmas shopping with unique gift items from 20-25 local artists and artisans. New this year, we will also be presenting a Food Emporium with optional online ordering in advance. Come stroll the aisles then pick up a delicious snack or meal to go. Our Anglican Church Women (ACW) will also be selling unique art prints and collectibles. $2 admission (children 12 and under free), with door proceeds going to the Toronto Ukraine Society.
---
A Baroque Journey
Saturday, November 5, 2022, 7 p.m.
St. Olave's Director of Music Dr. Hanné Becker and violinist Dr. Gloria Yip will take us on a Baroque musical journey performing masterpieces by Bach, Corelli, Vivaldi, Benedetto and Tartini.
Freewill offering admission, suggested donation, $20.
---
Tracing the Tunes: Ralph Vaughan Williams and the English Folk Song
Monday, October 17, 7:30 p.m.
St. Olave's is delighted to welcome our choir's Tenor Lead, Alexander Cappellazzo, and guests, for a special performance honouring the 150th anniversary of Ralph Vaughan Williams. The concert will feature folk song arrangements for voice and clarinet, and music from the films 49th Parallel and The Vision of William Blake. Tickets are $30 ($20 for seniors and arts workers) and will be available at the door, or by reserving at apocryphoniamusic@gmail.com. This program will also be live streamed. Get your tickets on Eventbrite
---
Marque Smith and Friends: A concert for PWRDF
Friday, September 16, 7:30 p.m.
In 2022, the number of refugees and Internally Displaced Persons (IDPs) reached a new milestone: 100,000,000. That's 1% of the world's population on the move, forced to flee their homes due to food insecurity, violence, political unrest and climate-related disasters. In response, PWRDF has designated its annual summer fundraising campaign – the Wild Ride – to support and raise awareness about programs in these vulnerable communities.
To raise funds and awareness for this cause, St. Olave's invited jazz musician Marque Smith to return from the Diocese of Huron and Craig Douglas to emcee a very special event. If you missed the concert, you can watch the live stream and support the cause until October 8.Make your donation
---
Saturday, June 18, 10 a.m. to 2 p.m.
on the church lawn and in the Parish Hall
St. Olave's Anglican Church Women (ACW) invite you to peruse their vast collection of gently used books and stock up for your summer reading. They will also be presenting an exhibit and sale of watercolours by the late Sally Jarvis Sloan.
---
Seniors Takeout Lunch
Wednesday June 8, 12:30 p.m.
St. Olave's is proud to partner with Parkdale Golden Age Foundation to offer freshly-made take-out lunches to seniors for $6. Parishioners and area seniors are all welcome to order meals (order more than one to add to your freezer!). The deadline to order is June 6. Pay at pickup (cash only) at the Ostend door closest to Windermere.
June 8 menu:
Vegetable Soup
Meat loaf with creamy mashed potatoes and green bean medley
Strawberry shortcake
To order your meal before June 6, contact Parkdale Golden Age Foundation at 416-536-5534.
Volunteers welcome: if you would like to help with meal distribution or kitchen clean-up, please contact Janice Douglas or Sheila Tait.
---
Discovering Your Strengths and Learning Strengths from Nature
Friday, June 3, 2022
1-4 p.m. at St. Olave's (Ethel Brown Room)
Now, more than ever, we need to know our strengths in these troubled times, for ourselves, our world, and our climate. Families, schools, clubs and individuals are invited to join Life Coach Roberta Harris in learning about our essential strengths through play and fun. This interactive program is designed to empower young people by helping them identify their inner and outer strengths. Inner strengths are natural virtues such as courage, kindness and generosity. Outer strengths are natural talents, like music, art, cooking and sports. Through discussion, games, art, music, nature awareness, dance and inspiring videos, Roberta will convey these messages in a fun, experiential and interactive way.
Fee: $20-$35 per person (sliding scale pricing, choose your price when registering)
Learn more about Roberta at robertaharrislifecoaching.ca/.
---
Evensong for the First Sunday of Advent followed by The Mystic Voice of a Violin
Sunday, November 28, 2021, 4 p.m.
Join us in person or online for our annual Advent Evensong at 4 p.m., followed by The Mystic Voice of a Violin, a concert featuring Paulina Derbez. She's performed in Austria, Switzerland, Mexico, New York, Ottawa and here in Greater Toronto, including on two of St. Olave's past Arts Guild videos.
This special concert features Bach's Fugue in G Minor and part of his Chaconne in D Minor, as well as Corelli's La Folia, all in contrast with various baroque and modern pieces from Mexico. Derbez will also include three of her own compositions: Il vento, Signor Pietà and Reflections of the Heart.
The service and concert will also be streamed on our YouTube channel to watch live or later.
Screening, sign-in, face masks and physical distancing are required. Those attending the concert only must provide proof of vaccination.
---