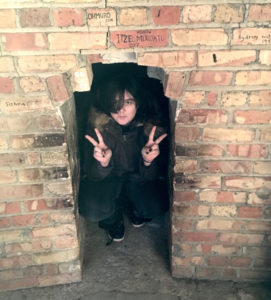 I'm only 13 years old, but I still wish to express my feelings to you about St. Olave's church. To start things off, I'd like to say I strongly support the things that the 'For The Love of St. Olave's' committee does. My father's involved, and he's told me a lot about what happens in it – mostly things to help the church survive and thrive.
'St. Olave's means the world to me' was the saying on a set of St. Olave's t-shirts a few years back, and the phrase sums up how I feel. I've been going here my whole life, and I joined the choir two years ago (it's really great, by the way, you really should hear it).
I mean it when I say that St. Olave's is an amazing place.
Aden at Casa Loma on a Youth Group outing in December 2017.