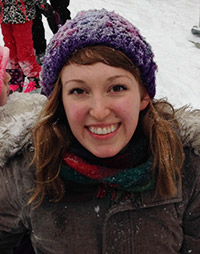 Laura Bennett is a graduate of the International Development program at York University. She is passionate about food, alternative food systems, families and Jesus! She first came to Bloor West Village as a nanny and then started a weekly drop-in at St. Olave's called Kids in Gardens.
Laura is excited to bring her creativity and vision to the Junior Church program while working to make St. Olave's a hub for the Swansea community. She believes Junior Church is about inspiring a love for Jesus in kids, by sharing the gospel through fun, engaging and creative programming. That said, she also believes Junior Church is also about families and the community at large. It's about cultivating an environment where families in the community can find Jesus.
Laura is married to Andrew Bennett and they have one daughter.
Email: children@stolaves.ca
Learn more about children's programming at St. Olave's here.
---