The following testimonials are part of an ongoing series written by members of St. Olave's for our For the Love of St. Olave's e-blasts. They offer a deeper understanding of the impact the church has had in their lives. If you would like to provide your own tribute message, it would be most welcome! Please email your message to Jim Shapland.
---
Aden Shapland
I'm only 13 years old, but I still wish to express my feelings to you about St. Olave's church. To start things off, I'd like to say I strongly support the things that the 'For The Love of St. Olave's' committee does. My father's involved, and he's told me a lot about what happens in it – mostly things to help the church survive and thrive.
'St. Olave's means the world to me' was the saying on a set of St. Olave's t-shirts a few years back, and the phrase sums up how I feel. I've been going here my whole life, and I joined the choir two years ago (it's really great, by the way, you really should hear it).
I mean it when I say that St. Olave's is an amazing place.
Aden at Casa Loma on a Youth Group outing in December 2017.
---
The Rev. Dr. Schuyler Brown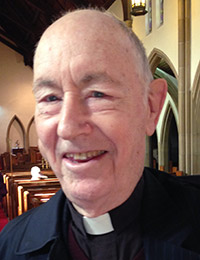 The Anglican Church of St. Olave's is a miracle. It has held fast to the twin pillars of the English Reformation: the Book of Common Prayer and the King James Version of the Bible. It has a vibrant programme of Religious Education, focused on Anglican history and tradition. It is a warm, open community, "where seldom is heard a discouraging word."
Finding St. Olave's, after the amalgamation of the Church of the Good Shepherd, has given me a safe harbour, for which I am most grateful to God.
St. Olave's welcomed Schuyler as Honorary Assistant in 2016. He leads a monthly Bible Study and Eastertide discussion series.
---
Bev Jarvis
St. Olave's has always been home to me. Many psalms speak of God's provision for a refuge, meeting place, or home to abide in. (Psalm 90:1-2, Psalm 91:1-2).
Since my parents, grandparents, relatives and friends were active here, in Church and Scouting, I was blessed to grow up in a loving and lively "home."
Once called a "cradle Anglican," I was fortunate to celebrate Baptism (1930), Sunday school, confirmation and marriage (1955) at St. Olave's. It has been a vibrant journey for me surrounded by treasured friends, beautiful liturgy, (ie The Book of Common Prayer), music, creativity and Bible-centred learning. One can appreciate how to "Worship the Lord in the Beauty of Holiness" through our precious sacraments.
St. Olave's is an ideal place to experience this Beauty within lovely architecture, with dear friends, surrounded by heavenly music. Here we can grow in the Lord, and find ourselves in the Family of God.
---
Cathy Hutcheon
I don't remember not being immersed in liturgy. Throughout my childhood in Wales, words that were familiar, but not necessarily understood, unfolded their mystery.
At the heart of these words was the presence and love of Jesus, Son of the Living God.
Life has since been a tapestry of joys and sorrow, quotidian routines and adventure, confusion and clarity. I've wandered and come 'home' more times that I care to admit.
This brings me to the nub of what St Olave's means to me. Three thousand miles from my starting point, and moving into my senior years, I can return here again and again to those oh so familiar words. Sometimes still, understanding unfolds. Love always does!
Cathy Hutcheon recently retired from her post as St. Olave's Librarian. She is a teacher in the Toronto District School Board.
---
Sheila Tait
On the day that my parents and I moved into the neighbourhood, my father went for a walk "to reconnoitre" and announced the discovery of an Anglican Church within walking distance. And so began our association with St. Olave's. As staunch Anglicans in Jamaica, both parents were highly involved members of two parishes including one with the third oldest church (founded 1671, present building erected 1715 with an organ dated from 1867 and said to be the oldest in the Commonwealth Caribbean.)
The "comfortable words" of the Book of Common Prayer made the integration in St. Olave's seamless. My parents appreciated the hospitality of and involvement in a 'community' church. They understood and we discussed the necessity for consistent financial contribution and support, the continuing demands of maintaining a historical beautiful building and the need for good stewardship.
I treasure the liturgy, the variety of religious experiences, the music, evensong, Lenten and other series, the outreach to and inclusion of other congregations, our parishioners and the ministry and fellowship of faith-filled women.
St. Olave's gives me the ideal opportunity for worship, fellowship, learning and service.
Sheila is a former Warden at St. Olave's and currently serves as our Property Chair.
---
Janice Douglas and Martha Drake
Our friendship first took root as kids at St. John the Evangelist in London. Through the years we would run into each other around the city but in May of 1987 we found ourselves together at a French immersion program in Trois-Pistoles, Quebec.
Both students at Western University, our friendship blossomed that spring as we conjugated regular and irregular verbs, practised the Quebecois tradition of improv and explored the rocky shoreline of the Bas-Saint Laurent region.

Fast forward 10 years to 1997. We were living with our respective husbands in the west end of Toronto. If Martha lays claim to discovering St. Olave's for us, then it is Janice who settled the land, digging in for the long haul! Our children – Katie, Gabbie and Paul – grew up here at St. Olave's, from baptism, Junior Church and Nativity Plays, and were eventually confirmed together. Now we are on the stewardship team together. Our friendship wears the Anglican church around its shoulders like a warm and cozy shawl.

You might say friends who pray together stay together!