Annual Lawn Sale
Saturday June 22, 9 a.m. to 4 p.m.
Do some spring cleaning and rent a table for just $20. Your junk may just be someone else's treasure. If you don't want to rent a table, the ACW (Anglican Church Women) can use current books in good condition, quality tea cups, mugs and china plates and other such 'treasures', as well as hand knitted items. To rent a table, please contact the office at 416-769-5686 or stolaves@stolaves.ca.
---
Chair Yoga with Darlene Hewitt
For people of all ages with various levels of physical limitations. Chair Yoga is an excellent form of exercise to keep the spine limber, strengthen core muscles and is a fun way to release stress.
Where: Lower level of the church, Ethel Brown Room (bottom of stairs nearest parking lot entry). Chair lift available.
When: Mondays, 10-11 a.m., starting January 21, 2019. (Please arrive early if you require the chair lift.)
Cost: $10 Per Class, $30 one month trial, $90 12-week package
Call to reserve a chair: 416-357-3934 (Walk-ins welcome)
Learn more about instructor Darlene Hewitt
---
Saturday, November 17, 2018, 10 a.m. to 4 p.m.
Christmas Craft Show & Coffee House
Come and see more than 20 unique artists with wonderful gift ideas for everyone on your shopping list. Knit wear, hand made soaps, jewellery, cards, stained glass, vegan baking round out the dizzying array of artistry on hand. Also, enjoy delicious treats, Starbucks coffee and new this year, a bistro lunch will be served between 11:30 and 2 p.m. Our Anglican Church Women will be selling knitted goods, baking and treasures, as well as a raffle. Proceeds from the $2 door admission are supporting a peace building project in the South Sudan with The Primate's World Relief and Development Fund. Download and share the poster.
CALL FOR VENDORS
There are still a few tables left but they're going fast. Knitters, carvers, bakers, jewelry makers, sewers, builders, painters – makers of all kinds – are invited to submit their application to participate in this event which draws more than 400 people from the community through our doors. Proceeds of the event support St. Olave's good works and outreach.
For information about how to register and a registration form, click here.
---
Saturday, June 16, 2018, 9 a.m. to 4 p.m.
Community Lawn Sale
The Anglican Church Women (ACW) of St. Olave's will be having their annual lawn sale. Rent a table for $20 and sell your treasures. Numbers are limited so reserve your table today by contacting the office at 416-769-5686. Or, download and print out a letter and vendor application form here and then send to the office with your cheque as instructed.
---
June 1 (6-9 p.m.), June 2 & 3, 11 a.m. – 5 p.m.
Art Tour Studio Tour
ART TOUR Studio Tour (formerly known as the Bloor West Art Tour) is celebrating its 21st anniversary and we invite you to come to see a new unique art exhibit by Luba Magdenko and Annis Tebbutt (art name Thompson) at St. Olave's! Luba's art has precision and detail in contrast to a looser application of paint and with a love of bright colour. Annis is inspired through her work by the adaptation of nature to landscapes made over by people.
The exhibit will be located in the Narthex, the foyer area at the Windermere door. All are welcome and admission is free, as is admission for all the 28 sites in west end neighbourhoods of the ART TOUR! Visit the ART TOUR website for more details about the artists and the tour stops, or email Annis.
---
Saturday March 24, 3-5 pm
Our second paint party will be Saturday, March 24 from 3 PM to 5 PM. We will be using resources from Illustrated Children's Ministry and learning the stations of the cross while we paint. The paintings will be hung in the church for Holy Week. This event is not just for kids; it's an ALL AGES event. Tell your friends! Please RSVP here.
---
Starting February 21, 2018, 6:30 pm
Meeting Jesus through the Gospel of John: A Lenten Series with Bishop Jenny Andison.
Toronto's York-Credit Valley Area Bishop Jenny Andison leads this six-part discussion series based on materials from the Society of St. John the Evangelist. Join us and bring a friend as we move through Lent together, Wednesday evenings February 21, 28 & March 7, 14, 21, 28, 2018
6:30 – Light supper (freewill offering welcome)

7:00 – Discussion

8:30 – Compline
To help us food and Meeting Jesus prayer journals, please register here.
Feel free to download or share this 8.5×11 poster.
---
February 11, 2018, 11:30 am
Pancake Lunch!
Our annual feast for Shrove Tuesday happens the Sunday before, right after our 10:30 service. Tickets available at the door. Adults $6, children $3, families, $15.
---
Saturday, November 18, 2017, 10 a.m. – 4 p.m.
Christmas Craft Show & Coffee House
Join us for our annual craft show featuring 20 unique artisans and crafters. Knitted wear, baking, woodwork, jewellery, cards and tons of great gift items from which to choose. Plus a used book table, tasty treats and premium coffee. $2 admission (kids under 12 are free) goes towards the Hunger Patrol.
Vendor applications are still being accepted. Click here for information and to download an application form. Deadline to apply is September 22, 2017.
---
Sunday, November 5, 4 p.m.
Evensong for All Souls plus Pumpkin Tea and City Flutes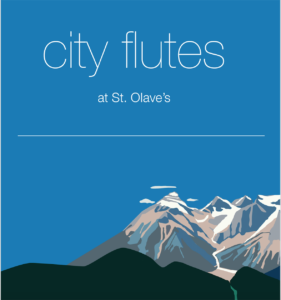 The Evensong for All Souls will include an opportunity to remember loved ones who have recently passed away. After Pumpkin Tea, Toronto's City Flutes return to St. Olave's to present popular flute pieces, led by founder Lana Chou Hoyt. The concert will include glorious music by Bach, Albinoni and Vaughan Williams, plus Spanish Love Song, I Wonder As I Wander and the Greensleeves Fantasia.
---
Saturday, November 4, 2017
3 – 6 p.m.
Kids Paint Party!
Our Child & Youth Ministry leads a fun event for kids and parents. Bring your creativity, everything else is supplied! Register by November 2 here.